Livescribe+GTD
GOAL:
Take hand written notes comprised of text, mind maps and sketches, and have it all be digital and searchable locally and in the Cloud.
FOCUS:
Action Method, Livescribe+GTD and Evernote being used to achieve digital notes which can be synced, and organized and searched via ICR.
In my quest for ever greater efficiency and fluidity, I've gone back to look @ how well my Echo Pen will work with the ActionMethod system I've tweaked and customized for my own needs. While the Livescribe angle is interesting and doable provided you use their custom books, I was hoping that I could achieve the same results as my hand made books with printable Notebooks.
I've tracked down a set of Blank Pages to print out, however, I don't know if it's the paper or the print out, but not all of my lines aren't digitizing properly. I have noticed that the laser printer I am using tends to make the page a little slick after the image is set to paper, so I think I will have to do a little more testing with a high end Ink Jet printer to see if the experience improves.
Anyhow, I have two ways of achieving the ActionMethod technique. The first is to just draw out the layout in the LiveScribe notebook, and the other is to print out the Blank Pages and Overprint the ActionMethod layout on top of it.
Here are a couple snapshots: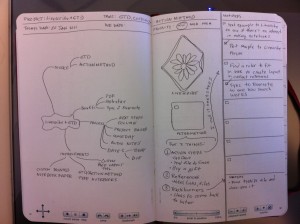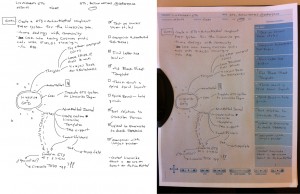 The benefit of drawing out the layout is that all the items I've drawn and written will import perfectly, whereas if I go the custom printed route, I tend to notice missing lines and shapes, as if the dot paper has been compromised in some form or fashion. I am going to continue testing this out with different paper and printers to see if it ever works.
I wish ActionMethod and Livescribe would partner to create some custom books geared toward the GTD community. I know it's a rather small and vertical market, but I feel it's a pretty dedicated group of people who would totally embrace the concept.
I hope this was interesting.
Cheers!