Well, still at it.
I spent a few weeks on my hand made journals and my custom little task sheets, but I felt like something was missing. So I did what any good GTD obsessed nerd does, I did more research. I search high and low for a nice little system I could call my own and carry with me everywhere. A good resource I found was on DIYPlanner. It was here that I read about the innovative Rollabind Paper system. The videos looked really cool. I then learned that there was another company who adopted their technology called the Levenger Circa Notebooks. And this ultimately led to another company, Myndology, who did pretty much the same thing, with a little variation in their paper and punches. Anyway, in the end I just happened upon a forum posting that talked about these Rollabind, Circa, Myndology type books from Staples which came out in late December of 2010. I thought, cool, I can go check them out. I swung by one day after work and picked up a couple journals, and I instantly fell in love. I saw in my hand the realization of what I wanted to achieve on paper+GTD: fluid, flexible and a highly customizable note and task organizing system. I mocked up my preferred layout, bought a Levenger Circa punch and went to town.
Here is a snapshot of the current spread in the Staples ARC book (you can see that I am still fleshing out the Task Sheet concept-can't decide if it's a quarter sheet or a card type of system):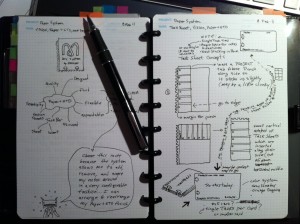 Well, that's the story so far. Here's a link to the Arc Staples Notebooks. Grab one and enjoy.